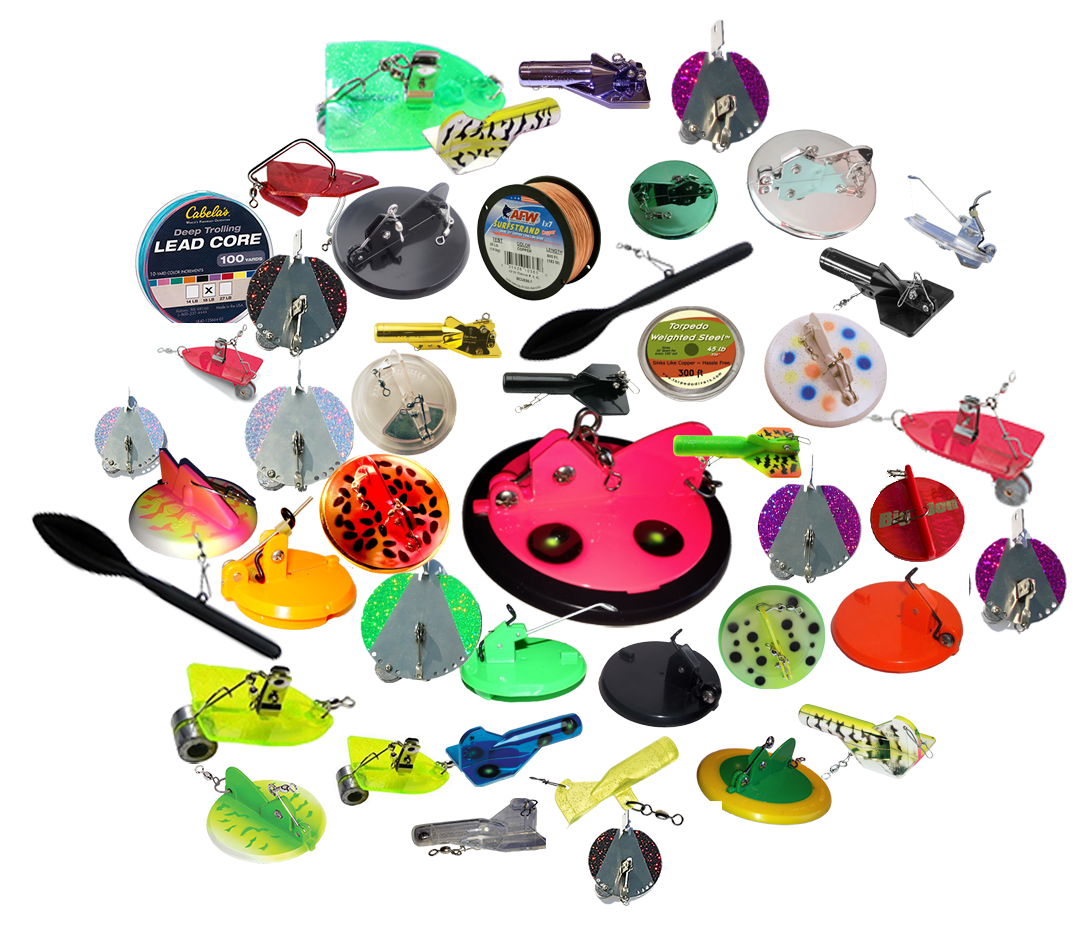 New version
---
Dipsy Troller is an app for smartphone to interactively get the length of trolling line initially for the Dipsy Troller de Luhr Jensen and some others divers from the same company.
As fishermen, we have all opened our fishing box to find that the user data of the divers have been soaked and is unreadable or that we can't find it. It happened to me and to my fishing buddy, so I decided to write this app. The truth is also that to find the right length considering all the factors: the size, the ring, the line, the plates… while driving the boat, putting lines to the water, trying to not hook ourselves, looking at the sonar, trying to get the thermocline depth, adding waypoint when seeing fishes, listening radio for other reports is difficult to say the least. 9 years ago, smartphones were only starting to be in all fishermen pocket but now it is clearly in all pockets.
Dipsies have a very simple data table, while the two values per cell, with or without the ring, make it clearly more difficult to read. But some of the other divers have larger and more complex data tables with tens of columns and rows and even many pages. Now that apps are omnipresent, it was the right time to do another version with more divers.
That's it, the third generation of Dipsy Troller is ready.

The first one was 2011! It was on iOS version 4 and iPhone 3G.
The second one was 2017, iOS version 10 and iPhone 5.
The last one is for version 14 and iPhone 12. 


The new version had a lot of new features: more divers, more functions and more phones.
More Divers
The first and second version were for:
Dipsy, Dipsy Zero, Dipsy mini and Magnum
Pink Lady : 3 models
Jet Diver : 4 models
Lead lines : only 1 model
The new version offers :
Chinook Diver : 5 models
DeepSix Diver : 3 models
U-Charter Slide divers : 3 models
Big Jon divers : 2 models
Torpedo : 4 models
Torpedo Deep sea diver : 2 sets
Copper lines : 2 models
Torpedo Steel line
Team Dreamweaver Deeper Diver : 5 models
Team Dreamweaver Rundown Trip-Z de : 4 models
Lead lines : 3 new models
Which makes the count up to 46 models.

UI shows realistic image of the diver.
More functions
Favorites
With that many divers, I had a favorite function. You can favorite the series or only one model.
Double indicators
If having the counters on top of screen and the cursor at the bottom is a problem, you can now double show them close to the sliders.
Landscape mode
Just for fun, you can now turn your phone on his side.
 More phones
L'app is available from iPhone 5 to brand new iPhone 12 with iOS 10 and up but also for Androids.