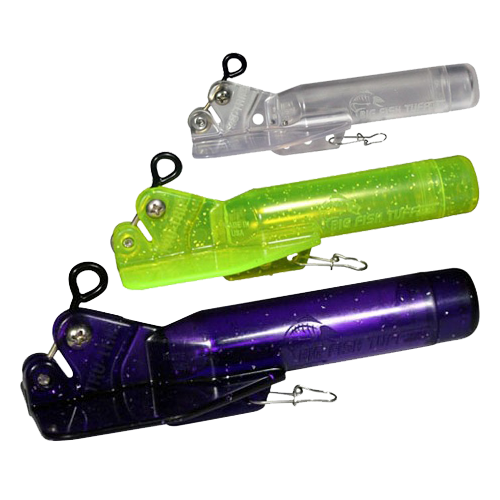 Dan Heyne, aka Painter Dan from Coldwater, Ohio, is an avid fisherman that wanted short leads for less tangles for deeper fish. He started Big Fish Tuff Tackle Company to launch his new product, the Tru-Trip Deep Diver.
With the rapid success of the Tru-Trip 40's & 50's, Big Fish Tuff went to work on a Tru-Trip 30, which will be available shortly.
Go to the web site by clicking here
Tru-Trip Deep Diver – 50
Adjustable trip-out mechanism: Trips out at fish strike: no diver drag
Deeper dive curve: dives deeper than other divers
Vinyl dipped wire eye. No Tangles
Sonic welded cap. Leak Proof Guaranteed!
Buoyant up to 1 oz. lures
Weight adjustable depending on lure used
FIsh attracting internal rattler.
All stainless hardware
UV protected
Environmentally safe: Lead Free
Made and packaged in the USA.
Three sizes – cover just about any trolling situation and let you target depths from 10 to 60 feet.
Many color patterns
Tru-Trip Deep Diver Size 30 Target depth 8 to 30 feet
Tru-Trip Deep Diver Size 40 Target depth 8 to 40 feet
Tru-Trip Deep Diver Size 50 Target depth 7.5 to 48 feet